Working Princinple of Poultry Manure Dryer Machine: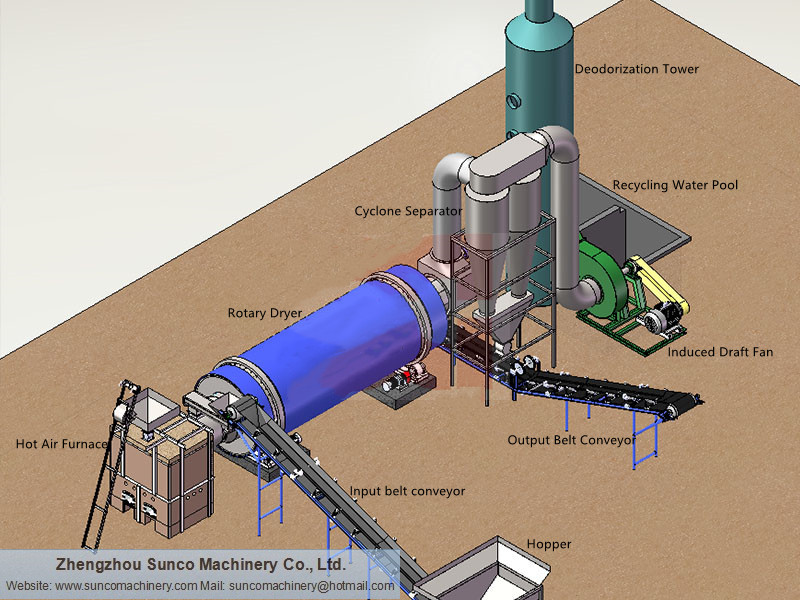 Sunco Poultry Manure drying machine is to use high temperature air to heat and dry wet poultry manure continuously and quickly, and within about 15-20 minutes the chicken manure become dry. Hot air furnace system is used to burn the fuel, working together with draft fan to supply high temperature air for the poultry manure drying process. The customers can select the most economical fuel such as coal, waste wood, Palm kernel shell, corn cob, wood chips, diesel, or natural gas, etc.
Sunco Poultry Manure Dryer Machine is specially designed according to the features of poultry manure (sticky & high humidity). Its inner crushing shaft and lifting plates disperse the chicken manure, increase the heat contact area so that hot air can heat and dry chicken manure throughly. The poultry manure dryers size (diameter & length) supply the drying space and water evaporation space. By adjusting the poultry manure drying machine rotation speed, to control the drying time as need.
Deodorization system consists of deodoriztion tower, water pump, recycling water pool, condensor. It can lighten the odor of exhaust air significantly, so that the workers can bear it, reduce the complaints from the local residents, and can follow the environment protection standard.