Introduction of Oil Palm Fibre Dryer Machine:
Oil Palm Fibre / Palm Silk is by-product of palm oil extraction, could be recycled for green industry: Mattress, cushion, sofa, etc.
Oil Palm Fiber Dryer Machine by Sunco Machinery is specially designed for drying oil palm fibre / oil palm silk. After drying, the moisture content of oil palm fiber can be reduced to about 12% from about 65%.
It needs several processes to get clean,dry palm fiber: Steaming, shredding, separating, screening, drying, baling. To avoid over-heating & fire risk, palm fiber dryer works at 120-220°C. It takes about 10-20 minutes to reduce moisture from 65% to 12%. Low temperature, sufficient drying time ensures high quality of palm fiber.
Working Field Photos of Oil Palm Fibre Dryer Machine:
Inlet of Oil Palm Fibre / Oil Palm Silk Drying System: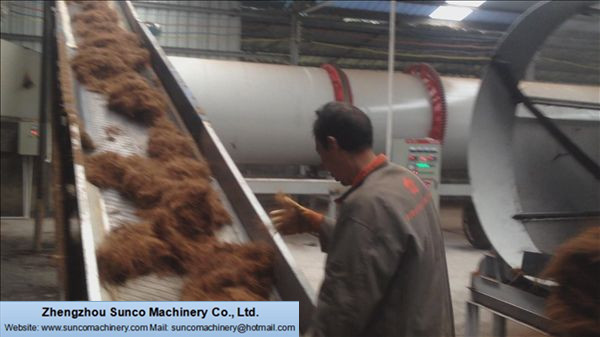 Oil Palm Firbre Dryer Machine and Drum Sieve: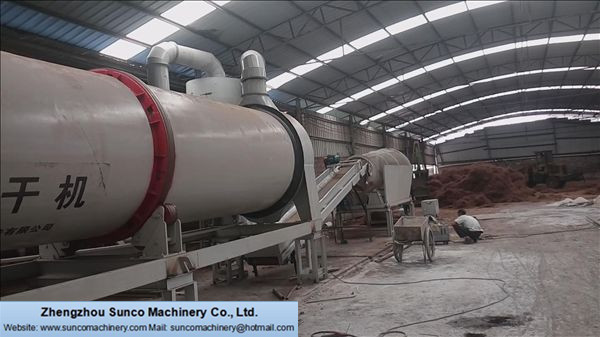 Outlet of Oil Palm Fibre Dryer Machine: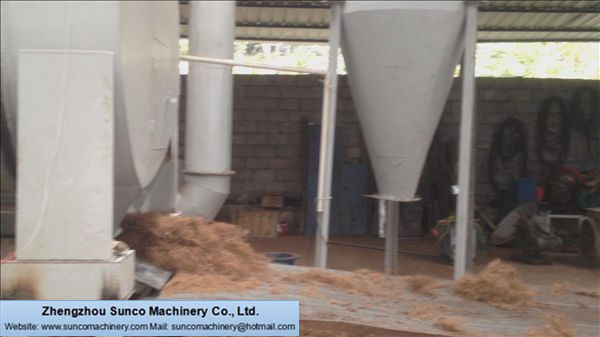 In Southeast Asian countries like Indonesia, Malaysia, Thailand, Sri Lanka, Vietnam, there are many companies that have need for palm fiber dryer machine as there is rice oil palm fibre resource.
Sunco Machinery have rich experience in rotary dryer design, manufacturing, installation. Sunco Machinery can design and supply the most suitable oil palm fibre dryer system based on your actual requirement.
Work Flow of Oil Palm Fibre Dryer System: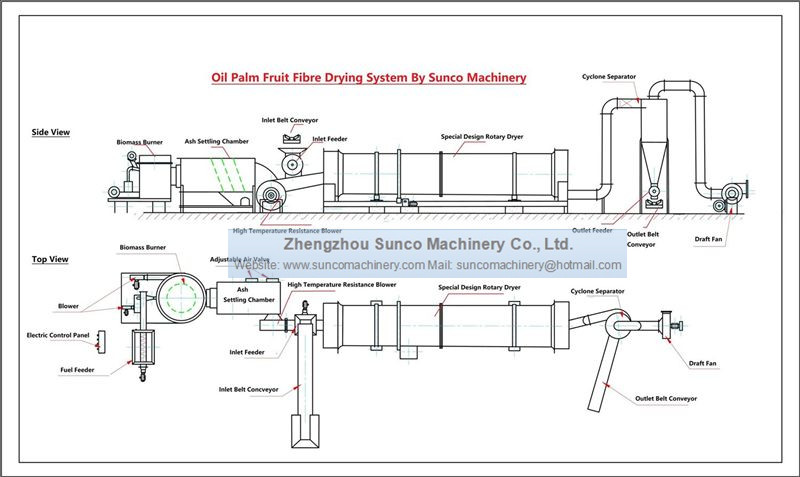 --- Fuel feeder sends fuel such as sawdust into Biomass Burner.
--- Biomass Burner is used to burn the fuel, and generate high temperature air for the drying system.
--- Ash Settling Chamber is used to collect the ash generated in the burning process, and supply the burning chamber.
--- Inlet Belt Conveyor sends wet oil palm fruit fibre into inlet feeder.
--- Inlet Feeder sends wet oil palm fruit fibre into the air duct in front of the Special Designed Rotary Dryer.
--- High Temperature Resistance Draft Fan make the high temperature air to heat and dry the wet oil palm fruit fibre strongly, and get rid of much of the water here quickly. After that the oil palm fruit fiber goes into the special design rotary dryer together with the hot air.
--- The Special Designed Rotary Dryer is designed according to the features of the wet oil palm fruit fiber. Rotary dryer not only supply the drying space, but also its special inner structure disperse the wet oil palm fruit fibre and increase the heat contact area between the high temperature air and wet oil palm fruit fibre as much as possible, and then the dryer can have better heat exchanging efficiency, and the water is evaporated into water vapor, and finally the moisture content of wet oil palm fruit fibre / oil palm fruit silk is reduced to be about 12% .
--- Draft Fan makes the high temperature air into the dryer, and make the dry oil palm fruit fibre / oil palm fruit silk and exhaust air out of the rotary dryer, and then goes into the cyclone separator.
--- Inside the cyclone separator, the dry oil palm fruit fibre / oil palm fruit silk is separated from the exhaust air, and falls down to the bottom of cyclone separator, then through the outlet feeder and falls onto the outlet belt conveyor. The exhaust air leaves the cyclone separator from the top, and finally goes into atmosphere through the draft fan.
--- Outlet Belt Conveyor takes the dry oil palm Fruit fiber/ oil palm silk to the product storage area.
--- Electric Control Panel is used to control all the above machines.