Sawdust Dryer Machine Introduction:
◆ Sawdust dryer mainly has two types. One is rotary sawdust dryer, one is airflow sawdust dryer. Rotary sawdust dryer is for the big processing capacity, and the airflow sawdust dryer is for small processing capacity.
◆ Sawdust dryer machine is important and indispensable drying equipment in the process of production mechanism charcoal. The materials of the timber which have been crushed can be produced to the fashioned mechanism stick through the sawdust dryer and the rod making machine. Then the fashioned mechanism sticks are made into the mechanism charcoal by the coking furnace.
◆ Rotary sawdust dryer is also known as sawdust drum dryer machine, sawdust drying machine, drying saw powder machine which is specially designed for drying the wood chips, sawdust, wood pellets, wood shavings, etc.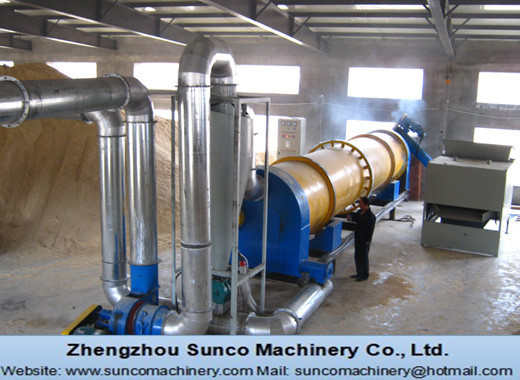 Sawdust Drum Dryer Machine Structure:
Sawdust dryer mainly consist of hot air furnace, feeder, air duct tube, cyclone dust separator, the induced draft fan. The sawdust dryer, rods machine and carbonization furnace are generally combined to form the configuration, chimney, electric control box, etc.

Sawdust Dryer Machine Features:
◆ High drying intensity: since the material is highly dispersed in the gas stream. The entire surface area of the particles is entire effective area of the particles for drying.
◆ Short sawdust drying time.
◆ Simple and compact structure, small floor area needed, convenient installation and maintenance.
◆ Large sawdust drying capacity, high heat efficiency can be more than 70% when it is free water.
Sawdust Dryer Machine Working Principle:
Sawdust Dryer Machine mainly consists of Heat Supplying System,Material Feeding System, Drying System, Dried Material Discharging System, Water Vapor Exhaust System,Waste Flue Gas Processing System.
To feed fuel such as waste wood into hot air furnace and light the fuel. Hot Air Furnace generate the hot air, and the induced draft fan makes hot air into the dryer drum. The hot air not only heat the wet material, but also heat the dryer drum. Under the function of the lifting plate and special drum inner structure, the wet sawdust moves up and down to the discharging end of the dryer drum, during this process, the wet sawdust not only absorb the heat of the dryer drum, but also have strong heat exchange with hot air.

During this process, the humidity inside the wet sawdsut is heated and evaporated into water vapor, and under the function of the high pressure draft fan, firstly the dry sawdust and exhaust air with water vapor goes into cyclone separator, and then the cyclone separator separates the dry sawdust from the exhaust air and water vapor. The exhaust air and water vapor come out from the top of the cyclone separator, and then pass through the draft fan, then goes into chimney, and finally goes into atmosphere. The dried sawdust come out from the outlet feeder which is installed on the bottom of the cyclone separator.