Wood Chip Dryer Machine (Rotary Wood chip dryer) Detailed Description:
Wood Chips Drying Machcine is developed and optimized from traditional rotary drum dryer which is well know as "workhorse" in the drying industry. Wood Chip Dryer by Sunco Machinery can dry and reduce the wood chips from moisture content about 40-55% to less than 20% or as need in one time drying.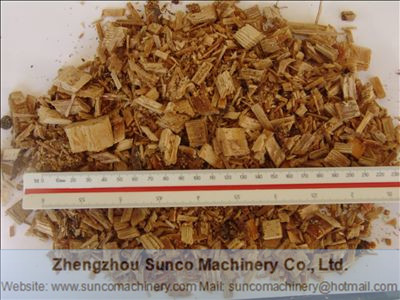 Why need to dry wood chips and reduce its moisture content to be less than 20% ?
Heating value of dry wood in average ≈ 19 MJ/kg, different forms of wood fuels, e.g. split billets, wood chips and pellets, saw dust, bark, etc. moisture lowers the net heating value of wood chips.
At harvest the moisture content of wood is around 50 % (total weight), to evaporate 1 kg of water takes about 2,5 MJ/kg H2O (0,8 kWh/kg H2O), e.g. 2 kg of wood chips, moisture content 50 %, = 1 kg dry-matter of wood + 1 kg water → net heating value ≈ (19 – 2,5) MJ ≈ 16,5 MJ → 8,25 MJ/kg of fuel.
Moisture content affects greatly on net heating value of wood fuel (see tables 1 & 2 ):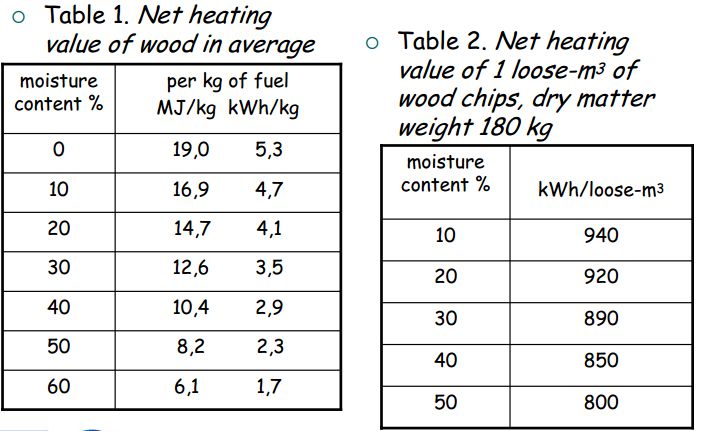 In practice the heating effect of small-scale boilers decreases even more.
--- the total efficiency of the boiler decreases rapidly when the moisture content rises (boiler tests are usually made with fuel
that contains 30 % or less moisture/water)
--- moisture content decreases conversion efficiency into energy and increases gaseous emissions (incomplete combustion)
--- when using dry fuels the boiler stays cleaner, malfunctions and need for maintenance decreases → uptime increases.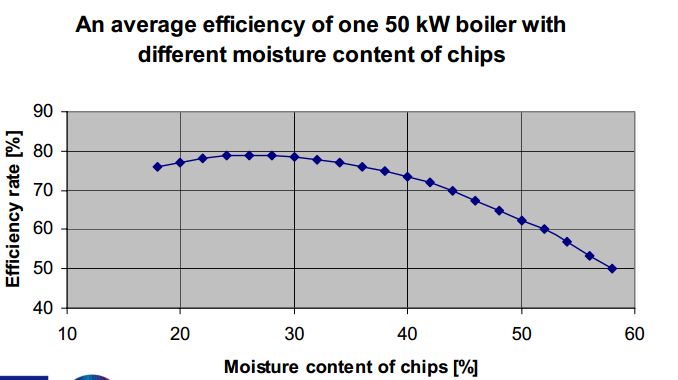 As a result, in order to increase the calorific value of the wood chips, we have to find economical ways to reduce the moisture content of wood chips to be less than 20%.
Wood chip dryer machine by Sunco Machinery can successfully to solve this problem. And it can use waste heat or normal fuel to generate hot air for the wood chip drying system.
Wood Chip Dryer Machine (rotary wood chip dryer) has the advantages as follows:
◆ Reasonable and compact structure, less land area needed ;
◆ High heat exchanging efficiency, Less fuel consumption;
◆ Fast drying speed, large wood chip drying capacity;
◆ Environment friendly, stably working situation;
◆ Easy operation and maintenance, less maintenance cost;
◆ Can be used for drying wood chip in the whole year, and not influenced by the bad weather such as rainy, snow days.
Wood Chip Dryer Machine (Rotary Wood Chips Dryer) Working principle:
◆ Wood Chip Drying Machine mainly consists of a horizontally inclined rotating cylinder, air duct, inlet cover, outlet cover, inlet chute, discharging chute, burner, hor air furnace, Induced draft fan, electric control cabinet, cyclone dust separator, input belt conveyor, output belt conveyor, etc.
◆ Wet wood chip are fed into wood chip dryer machine through inlet hole by input belt conveyor, and discharged through the dischaging hole and then to be taken away by output belt conveyor.
◆ Wood chip dryer machine is direct-type heating type rotary drum dryers, hot flue gas move through the dryer cylinder in direct contact with the wet wood chips, either with or against the direction of the wood chips' moving direction. The dryer cylinder is equipped with lifting plates and guide plates which shovel wood chip up and down, make it pass through wood chip dryer machine. During this process, the wet wood chip is heated and dried by hot flue gas sufficiently, and the water inside wood chip become water vapor, and to be taken away by induced draft fan in time. Finally we get the needed dry wood chip with moisture content less than 20% or as need.