Overview of Wood Shavings Dryer Machine :
Wood Shavings Dryer also is named Wood Shavings Drying Machine, rotary wood shaving dryer, etc. Wood Shavings Dryer is the key drying equipments for drying and dewarting wood shavings. It can dry the wood shavings from moisture 40-50% to moisture 8-15% which is suitable for storage, or according to the clients' requirements. The moisture inside the wood chips mainly are free water and biological water. Free water is easier to be dewatered, and biological water is difficult to be got rid of.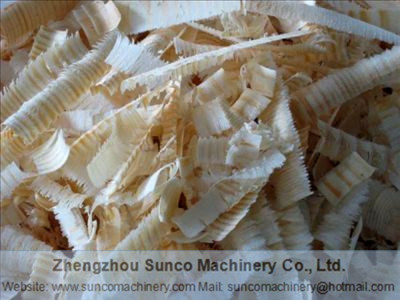 Sunco Machinery has been worked in the drying of wood chips, sawdust, wood shavings for more than 15 years. From then on, we have seen many different kinds of drying methods with varying degrees of success. Our past experience has proved that the most economic and efficient method for drying wood shavings is to use of Rotary Drum Dryer.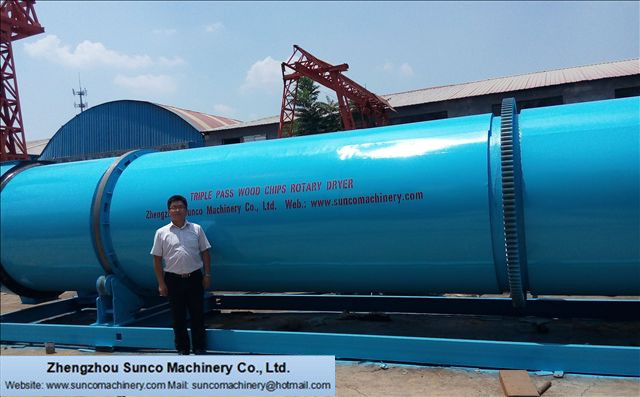 Advantages of Wood Shavings Dryer Machine :
◆ Energy Saving: More economical to operate when fuel costs are taken into account.
◆ Big drying intensity. As wood shavings are high dispersion inside the flue gas, all superficial area of the wood chips (or wood shavings) are the effective drying area.
◆ Short wood shavings drying time.
◆ Compact Structure, Less occupied area, easy installation and maintenance.
◆ Large Capacity, High Heat Efficiency.
◆ Stable Quality Wood Shavings: Low breakage ratio, little smell of flue gas.
Working Principle of Wood Shavings Dryer Machine :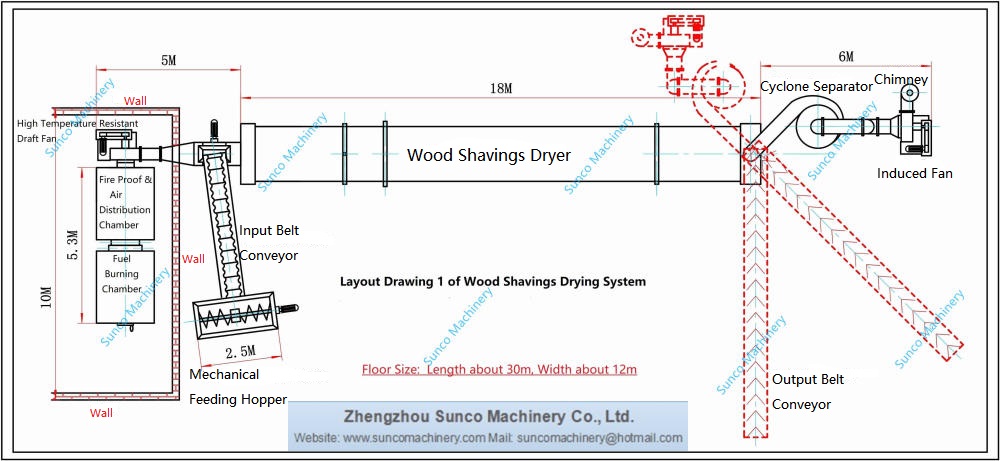 ◆ Wet material moves through the drum in an hot air stream created by the wood shavings dryer's Induced Draft Fan.
◆ The wood shavings are repeatedly carried to the top of cylinder by flights so they are constantly and intimately showered through the hot gas. Moisture is given off continually as they move along the hot air stream.
◆ The wood shavings move slower forward through the cylinder under the function of the induced draft fan at the discharge end. The warm damp exhaust gases(water vapour) are separated from the dried product in the primary cyclone separator, and the dried wood shavings fall out the bottom onto a vibrating shaker screen to remove fines. (Note that the optional secondary "cooling fan" and cyclone collector, which under favorable ambient conditions can remove several additional points of moisture.)
◆ Precise control of exhaust air temperature assures accurate moisture control, without product degradation. Controls react instantaneously to any temperature change, and immediately adjust the heat input to assure uniform drying and accurate control of the moisture content of the finished product.
◆ If the product is fragile, a "negative air" system may be used, where an airlock is installed at the bottom of the primary cyclone collector and the induced draft fan is positioned downstream to avoid product breakup caused by passing through the fan. However, we do not recommend this arrangement with certain species of wood, since we have found that resins present in the warm damp exhaust can quickly accumulate on the sidewalls of the pipe and plug it, making for a difficult cleaning job.