Introduction of Screw Conveyor:
Screw conveyor or auger conveyor is a mechanism that uses a rotating helical screw blade, called a "flighting", usually within a tube, to move powder or granular materials. It is also called helical conveyor.
Screw conveyor or auger conveyor are used in many bulk handling industries. Screw conveyors in modern industry are often used horizontally or at a slight incline as an efficient way to move semi-solid materials, including food waste, wood chips, aggregates, cereal grains, animal feed, boiler ash, meat and bone meal, municipal solid waste, and many others horizontal or with certain degree.
Structure of Screw Conveyor: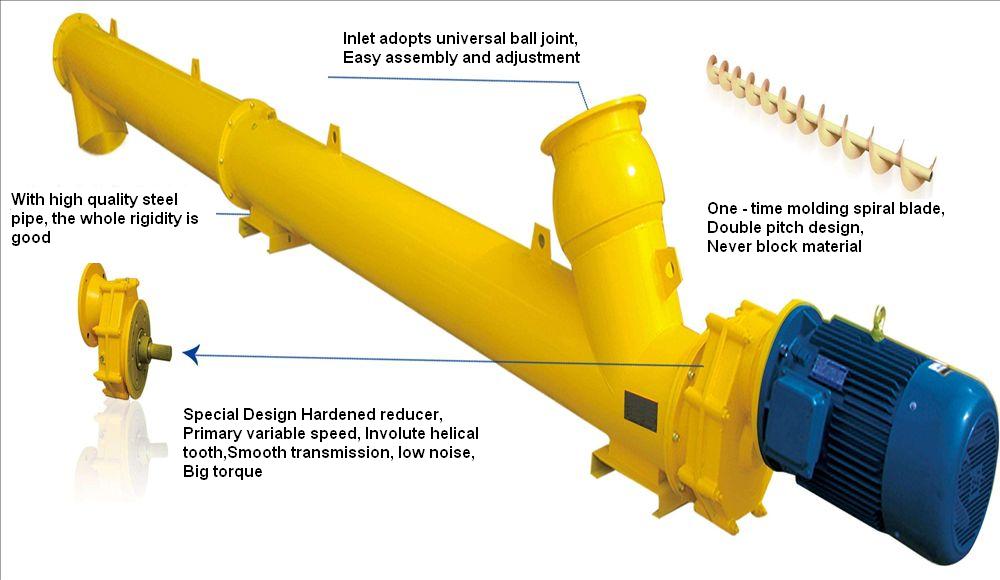 Screw Conveor consists of Motor, reducer, middle hanging shaft, tail bearing seat, universal joint, spiral shaft, and circular steel tube, etc.
Screw Conveyor has the features as follows:
All closed, no dust overflow, continuous operation; small area, light weight, easy to move; small power, quick start; low noise, easy to install, easy to operate, and can change the transmission height in a certain range according to the need.
Inclined Screw Conveyor is widely used in metallurgy, coal, chemical industry, building materials, ceramics, abrasive, grain and other industrial and mining enterprises.
In production, Inclined Screw Conveyor machine can add fine particles, fine powder, micro powder and so on to the rotary vibrating screen, linear screen, vibration mill, packaging machine, silo and other equipment.
According to the customers actual need, the inclinded screw conveyor can be made of carbon steel, stainless steel.