Sand Dryer Machine Brief Description:
◆ Sand Dryer is widely used in construction materials, ore dressing, metallurgy, chemical industry, cement industry, etc.


◆ Sand Dryer are used for drying all kinds of sand such as river sand, yellow sand, silica sand, quartz sand, pomegranate sand, etc. Sand Dryer mainly consist of rotary drum, carrier roller, lifting boards, hot air furnace, electric control box, etc.
◆ Sand dryer is also called the river sand dryers, silica sand dryer, rotary sand drying machine, etc, and it is a kind of processing a large amount of material drying equipment, reliable operation,large elasticity of operation,strong adaptability,large capacity.
◆ River sand dryer suitable for granular materials in general. Especially for drying silica sand, river sand with excellent results.
◆ River sand sand dryer has the advantage of high production capacity, wide application, small flow resistance, operating on the allowed range is bigger, easy to operate, etc. Commonly used in dry river sand, artificial sand, quartz sand, mineral powder,coal cinder, frac sand, raw slag, etc.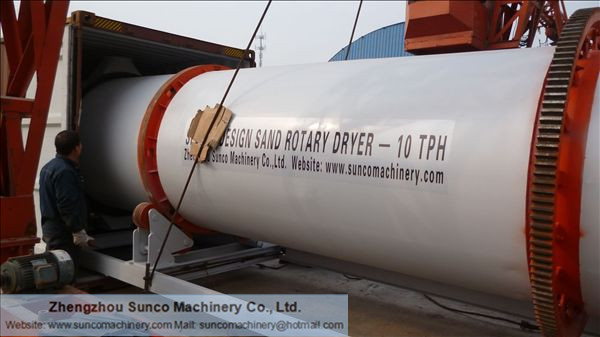 Sand Dryer Machine Features:
◆ New type rotary drum dryer, the flights structure in the cylinder of sand dryer is more advanced ;
◆ Inner temperature is 450℃-700℃, discharging temperature <= 60 ℃, can send into storage room directly, and no need cool device;
◆ Made of wear resistant manganese plate, 3 to 4 times more hardwearing than ordinary steel plate ;
◆ 1/3 of the traditional drum dryer's coal consumption, electricity power saving 40%, standard coal consumption per ton dried sand < 16 kg.
Sand Dryer Machine Workflow:
◆ Belt Conveyor or bucket elevator transports the wet sand into the hopper which is on the top of sand dryer.
◆ Hot air furnace supply the hot air for the sand dryer machine.
◆ Inside the sand dryer's cylinder, there are many flights, and these flights mix the wet sand and hot air sufficiently. The humidity in the wet sand is heated and evaporated into water vapour.
◆ At the end of the sand drying plant, there is one high pressure draft fan. Under the function of draft fan, the water vapour goes out of sand dryer in time.
◆ During the sand drying process, there is some dust mixed with the water vapour. In the cyclone separator, the dust is separated from the water vapour, and falls down.
◆ The dried sand goes out of the sand dryer machine from the outlet as product.
◆ Finally we can use one belt conveyor or bucket elevator to send the dry sand into silo or trucks.