For the production of slag cement, the raw slag firstly needs to be dried by Slag Dryer Machine and got rid of water, after that to be grinded into slag powder.

Slag Cement also is kown as Portland slag cement, and it consists of Portland clinker, 20% - 70% granulated blast furnace slag and appropriate gypsum.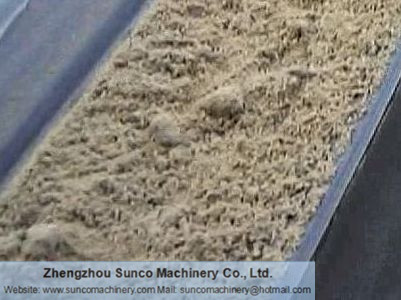 Slag Cement has the features of:
1. It can be used to prepare high-strength and high-performance concrete.
2. Slag ultrafine powder concrete has good water retention and plasticity, low bleeding, and good workability.
3. Reducing the heat of hydration is beneficial for preventing cracks caused by internal temperature rise in large volume concrete.
4. Produce more ettringite crystals to compensate for the drying shrinkage caused by excessive fine powder in the concrete.
5. Hardened concrete has good resistance to sulfate attack, ability to reduce and inhibit chloride ion diffusion, as well as resistance to seawater erosion, carbonization, and alkali aggregate reaction.
6. Improve the durability, wear resistance, and economy of hardened concrete.
For the slag cement plant, as Water-cooled blast furnace slag is wet and usually with moisture content about 15-20%, and it is too wet, thus rotary slag dryer machine is one key drying equipment before the grinding process.
Work Flow of Slag Dryer System is as below: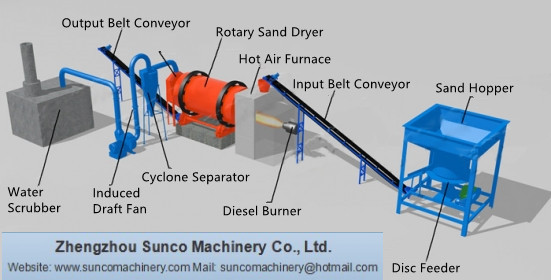 >>> Hot air furnace and burner to burn the fuel, and creat the hot air for the slag drying process.
>>> Mechanical feeding hopper feeds wet raw slag onto input belt conveyor.
>>> Input Belt conveyor feed wet slag into rotary slag drying machine.
>>> In the
rotary slag dryer
, the wet slag is heated and dried, when the slag temperature is rising, the water is evaporated into vapor gradually.
>>> Under the action of induce draft fan, the hot flue gas goes into the rotary slag dryer, after the drying process, make the exhaust air and vapor out of the slag dryer drum in time.
>>> Cyclone dust separator is used to collect the fine dust mixed in the exhaust air.
>>> Water scrubber working together with recycling water pool to get rid of most of the rest fine dust from the exhaust air.
>>> Output belt conveyor takes the dried slag away from the slag drier, and send it to the product storage area.
>>> Electric control cabient is to control the whole rotary slag drying line.
>>> Email: suncomachinery@hotmail.com
>>> Mobile/WhatsApp: +86-15838214261