Chicken Manure Drying Plant by Sunco Machinery is ideal for drying both of fresh chicken manure or compost chicken manure as need, after the manure drying process, the moisture content of dry chicken manure can be less than 30% or as need.

Chicken manure dryer machine is the key equipment of chicken manure drying plant which mainly consists of wet manure hopper, input screw conveyor, hot air furnace, special designed rotary dryer, cyclone dust separator, air duct, output screw conveyor, exhaust air processing tower, electric control cabinet, etc.

Chicken manure dryer machine is developed and optimized from traditional rotary dryer machine and it is to use high temperature flue gas to heat and dry the wet chicken manure strongly and quickly, and evaporate the water out of wet manure quickly in a short time continuously.

The key point of the design of chicken manure drying machine is as follows:
01. To supply enough drying space ;
02. To supply enough water evaporation space;
03. To disperse the wet manure and make sure there is enough heat contact area between wet chicken manure and hot flue gas.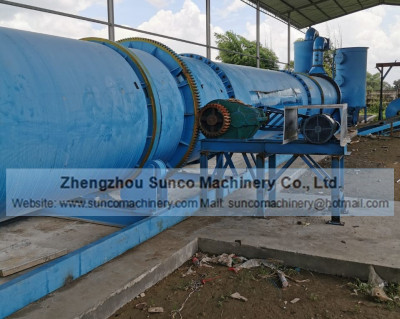 Sunco Machinery can design and supply chicken manure drying plant according to the customers' actual need.

If the customers have enough floor area, then we suggest to compost the wet chicken manure and reduce its moisture content to be about 40%, then use the chicken manure dryer machine to heat and dry the wet chicken manure, finally reduce the moisture content to be less than 30% or as need. To do it in this way, it can help to save much fuel consumption.

If the customers do not want to spend much time and energy to compost the chicken manure, and prefer to heat and dry fresh chicken manure directly, then it is also no problem. Chicken manure drying machine by Sunco Machinery can be used to directly to heat and dry fresh chicken manure up to moisture content about 75%, and reduce its moisture content to be less than 30% or as need in one time drying process within about 15-20 minutes.

After being dried by chicken manure dryer, it not only help to solve the storage and environment protection problems, but also the dry chicken manure can be used as high quality organic fertilizer for the production of organic food.

If you are in need of chicken manure drying plant, please feel free to inquire Sunco Machinery by :
Email: suncodryer@hotmail.com
Mobile/WhatsApp: +86-15838214261