One set of input capacity 4000 kg per hour poultry manure drying machine for Nigeria customers has been produced well, and ready to be delivered soon.

Nigeria customers is to use palm kernel shells as fuel for the poultry manure drying system. Sunco machinery designed and manufactured one new type biomass burner for burning palm kernel shell specially which includes fuel feeding hopper, blower and biomass burner body.

Nigeria customers has layer farm with capacity about 400,000 birds which every day generate about 40 tons fresh chicken manure with moisture content up to 75%.

By using poultry manure drying machine with input capacity 4 tons per hour, it takes about 10 hours to process and dry all the wet chicken manure, and get rid of the water and evaporate it into vapor, and finally get the dry chicken manure with moisture content about 15%.

Poultry manure dryer is the key equipment for the poultry manure drying system, and the other related machines are biomass burner, inlet screw conveyor, output belt conveyor, cyclone dust separator, air duct, deodorization tower, electric control cabinet, etc.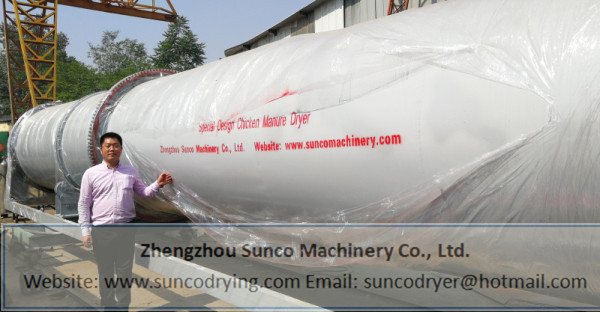 Poultry manure dryer machine also is known as chicken manure drying machine, and it is specially designed for drying poultry manure such as chicken manure, cow manure, etc combining the past years' actual experience.

For more detail of poultry manure drying machine, please do not hesitate to contact Sunco Machinery by:
*** Email: suncodryer@hotmail.com
*** WhatsApp/Mobile: +86-15838214261
*** Website: http://www.suncodrying.com/