Sunco Machinery have chicken manure drying machine for sale. In the year 2020 our chicken manure dryer is in hot promotion sale.

Chicken manure drying machine is developed from traditional rotary drum dryer, and it is specially designed for processing and drying fresh chicken manure with high humidity up to 70%-75% directly, and after the drying process, the moisture content of chicken manure is reduced to be about 15% -30% or as need.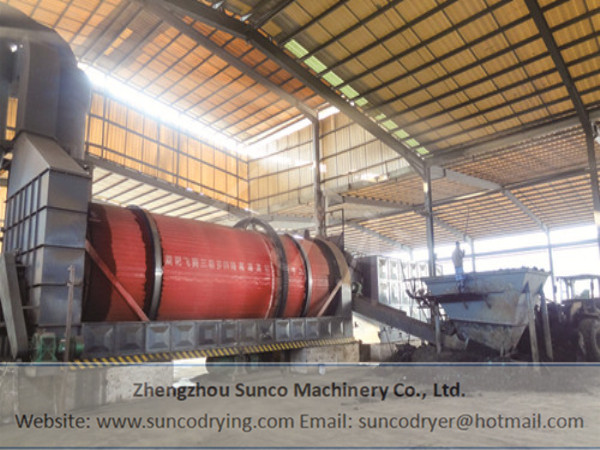 After being dried by chicken manure dryer machine, not only the water inside the wet chicken manure is get rid of , and produce the dry chicken manure, but also the harmful bacterial and worms are killed.

Chicken manure drying machine helps to solve the manure storage and environment pollution problems. The dry chicken manure can be directly used as organic fertilizer for the crops, and also can make the dry chicken manure into fertilizer pellets.

With the help of Sunco Machinery Chicken Manure Dryer, the chicken farm owner can process the wet chicken manure quickly everyday, but also can sell the dry chicken manure and earn some profit.


◆ Wet chicken manure (poultry manure, chicken litter) are sent into hopper of rotary chicken manure dryer by screw conveyor, then the wet chicken manure enter the drum installed with slope to horizontal line from the higher side, and hot air enters the drum from the lower side,
◆ Then chicken manure and hot air mix together when the drum of chicken manure dryer is rotating. Chicken manure goes to the lower side by gravity when the drum is rotating. Lift plates on the inner side of drum lift chicken manure up and down in order to make chicken manure and hot air mix completely, which is designed to improve the drying and heat efficiency of rotary chicken manure dryer.
◆ The humidity of the chicken manure (chicken litter) is heated and evaporated into water vapor, under the function of the high pressure draft fan, the water vapor goes out of the chicken manure dryer in time.
◆ The dried chicken manure (poultry manure) finally goes out of the dryer machine as product, and the users can use belt conveyor to transport the dried manure into store room or trucks.
◆ The deodorization tower is used to get rid of the odor during the poultry manure drying process, and keep the working field air clean.

For detail of chicken manure drying machine, please feel free to contact Sunco Machinery by:
Email: suncodryer@hotmail.com
Mobile/WhatsApp: +86-15838214261