Malaysia customers purchased one set of Chicken Manure Drying Machine.

The requirement information of Malaysia Customer on the Chicken Manure Drying Machines is as follows:
Raw Material: Chicken manure from layer farm.
Input Moisture content: about 70%-75%
Output Moisture content: about 15%-20%
Input Capacity : 1.5 tons per hour
Fuel: Waste Wood, firewood
End use of dried chicken manure: to be used for manure in vegetable farm and for flower orchard.
Input Capacity 1.5 t/h chicken manure drying system includes:




1. Hot Air Furnace supply the hot air for the chicken manure drying system.
2. Input Screw Conveyor sends the wet manure into the Chicken Manure Dryer Machine.
3. Inside the chicken manure dryer, the wet manure is heated by the hot air again, and the water is evaporated into water vapor, and finally the dried manure goes out from the dryer drum's outlet, and the water vapor goes out from the air pipe and then goes into the cyclone dust separator.
4. High Pressure draft fan is used to make the hot air into the chicken manure drying system, and make the water vapor and flue gas out of the dryer drum.
5. Cyclone dust separator is used to separate the dust from the water vapor and flue gas.
6. Wind closing device is installed on the bottom of the cyclone dust separator, and it avoids the ambient air into the drying system.
7. Deodorization Tower System is used to get rid of the dust in the flue gas, and help to lighten the strong smell of manure.
8. Screw Conveyor takes the dry chicken manure into Pellet Making Machine.
9. Pellet Making Machine make the dry manure into pellet.
10. Belt Conveyor takes the dry manure pellet into packing machine.
11. Packing Machine pack the manure pellet into bags.
12. Electric Control Panel is used to control all the machines in the chicken manure drying system.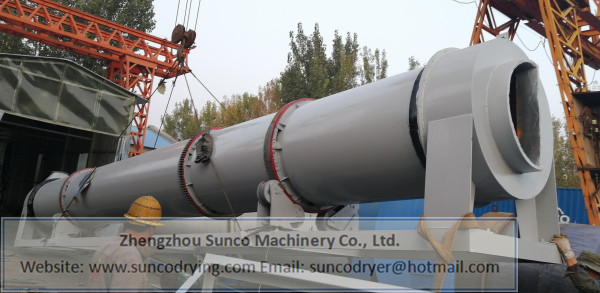 For more detail of Chicken Manure Drying Machine, please feel free to contact Sunco Machinery:
--- Email: suncodryer@hotmail.com
--- Tel/WhatsApp: +86-15838214261